« Back to Listing The Respiratory Protection Program: Management Version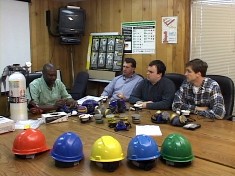 Product Code: RPPM
Running Time: 20 minutes
Language: English
Version: Standard




When respiratory protection is used, employers must follow the regulations laid out in OSHA's Respiratory Protection Standard, 1910.134. This program provides an overview of the employer's responsibilities and discusses key components of a proper Respiratory Protection Program.


How air-purifying respirators are properly selected and used.

How Assignment Protection Factors and Maximum Use Concentrations are calculated.

How fit tests and seal checks are properly conducted.

How respirators should be cleaned, maintained and stored.