« Back to Listing High Impact: Crane Safety (Spanish)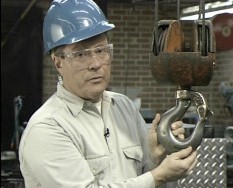 Product Code: CNSS


Running Time: 18 minutes


Language: Spanish


Version: Standard





As part of our best-selling "High Impact Series", this dynamic program shows viewers that a commitment to crane safety is the key to maintaining an injury-free workplace or even saving ones life. Filled with re-creations of actual accidents from OSHA files, this film has proven to be a highly effective training tool through its scared-straight, graphic nature.


Five accidents involving indoor cranes.

Load moved by unauthorized employee strikes co-worker.

Motor falls from damaged sling and injures maintenance worker.

Operator loses control of an odd-shaped load.

Heavy parts fall from improper rigging and kill crane operator.

Forklift operator killed in collision with suspended load.