« Back to Listing Operating Order Selectors Safely (Spanish)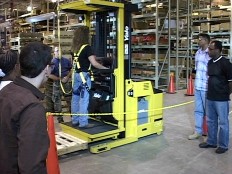 Product Code: OOSSS
Running Time: 16 minutes
Language: Spanish
Version: Standard




Order selectors, sometimes called order pickers, allow us to move materials, supplies and merchandise to and from storage areas more efficiently than ever before. This program examines some common hazards posed by the operation of order selectors and how to control these hazards through safe operating practices.


How loads and position of the operator's platform affect order selector stability.

What to check during a pre-operational inspection.

How to lift and stack materials safely.

How to prevent falls from the operator's platform.

How to safely drive the vehicle.

What precautions to take to prevent injuries to pedestrians.