« Back to Listing Safe Use & Operation of Industrial Cranes (Spanish)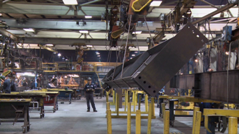 Product Code: UOICS

Running Time: 21 minutes

Language: Spanish

Version: Standard


Cranes come in a wide variety of sizes, configurations and capacities to lift and transport various products and materials used in industry. Due to the serious hazards presented by crane operation, crane operators must be fully qualified and 100 percent committed to the safe operation of their crane. That is the purpose of this program--to review the safety rules, precautions and safe operating practices common to all cranes in order to help crane operators work safely with the specific cranes they operate.


How to perform a pre-operational inspection.

How to properly inspect slings and chains.

What to check for prior to operating the crane.

How to check the balance of the load and the brakes of the crane.

How to safely lift and transport the load.

What the standard signals are for controlling overhead cranes.