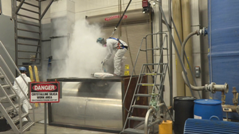 Product Code: SLCA
Running Time: 15 minutes
Language: English
Version: Standard



Crystalline silica is a naturally occurring substance used in a wide variety of industries and construction operations. It is also a common additive in food and pharmaceutical applications. While silica has many valuable uses, it can also present a danger when workers are exposed to excessive amounts of crystalline silica dust. In fact, each year there are hundreds of deaths and thousands of illnesses attributed to harmful exposures to silica dust. To prevent these types of harmful exposures, OSHA has developed regulations for general industry, maritime operations and the construction industry.


Occupational Exposure to Respirable Crystalline Silica.

OSHA Regulation 1910.1053 for General Industry and Maritime operations.

OSHA Construction Regulation 1926.1153 for Construction Industry.

How exposure to crystalline silica affects the human body.

What requirements must be implemented by organizations under the OSHA silica standards.

What engineering controls and work practice controls are used to limit exposure.

Which types of respiratory protection provide protection from silica dust.

What information can be found in Table 1 of the Construction Regulation.