« Back to Listing To The Point Series: Handling Materials Safely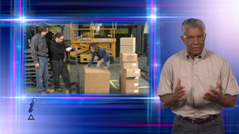 Product Code: TPHMS
Running Time: 13 minutes
Language: English
Version: Standard


Our workplace is full of hazards that can hurt or kill us. One such hazard is the risk of injury while lifting and transporting materials. Handling materials safely while using proper lifting techniques and maintaining good posture can help prevent injuries. That is the point of a facility's policies related to material handling and that is the point of this video.
What personal protective equipment may be required when handling materials.

What to look for when inspecting your path of travel.

How to lift, carry and set down a load safely.

How to safely use hand trucks, carts and dollies.

What precautions to take when handling pallets.

What hazards to be aware of when using forklifts and pallet jacks.