« Back to Listing Dump Truck Safety for Operators and Pedestrians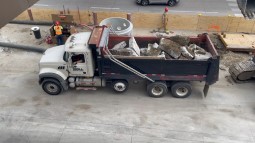 Product Code: DTS
Running Time: 13 minutes
Language: English
Version: Standard


Dump trucks are one of the most common types of heavy equipment and can be found on almost every construction site, mining operation, and other industry where hauling heavy loads is required. But just because dump trucks are commonly used, that doesn't mean they are always safe to be around. In fact, there are a lot of hazards associated with dump trucks that all workers and operators should be aware of. This program gives an overview of common hazards presented by dump trucks and general safety tips to prevent dump truck-related incidents and injuries.
After watching the program, the participant should be able to explain the following:
How deadly run-over and back-over incidents can be;

The results of property damage;

How to avoid contact with overhead electrical lines;

How to avoid tip-over incidents;

The importance of a pre-use inspection combined with general safe driving practices.