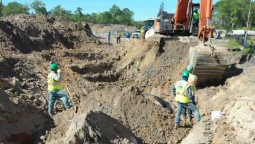 Product Code: TEXS
Running Time: 13 minutes
Language: English
Version: Standard


Trenches and excavations pose a serious and sometimes fatal threat to the safety of workers. There are dangerous risks and hazards that come with working in and around excavations. Trenches can be especially treacherous. However, by following the proper safety protocols for trenching and excavation work, the risk of experiencing an incident or injury in or around trenches and excavations can be reduced. This program details ways workers can protect themselves from cave-ins and other hazards when working with trenches and excavations.
After watching the program, the participant should be able to explain the following:
What is a cave-in;

Who is the "competent" person;

The different soil types;

Protective systems used around trenches and excavations;

General hazards around excavations, including struck-by hazards from equipment.