« Back to Listing 2024 NFPA 70E for Electrical Workers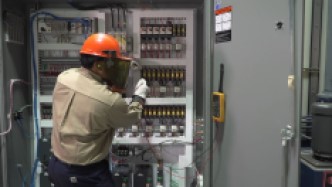 Product Code: NFPA24W
Running Time: 38 minutes
Language: English
Version: Standard
This program provides electrical workers with an understanding of the requirements of the 2024 NFPA® 70E® that relate to the safe performance of electrical work. It explains the dual hazards of electric shock and arc flash as well as the factors that contribute to the severity of injury. Electrical workers will also learn the conditions that require an electrically safe work condition to be established as well as the step-by-step process of creating and verifying an electrically safe work condition.
After viewing this program, electrical workers will have an understanding of the incident energy associated with an arc flash and how this is used to establish the Arc Flash Boundary distance and select proper arc-rated clothing and PPE. The importance of wearing arc-rated clothing is visually demonstrated by example and the viewer will learn that flammable clothing such as polyester will worsen any burn injury.
What the two hazards of electricity are and what factors contribute to the amount of damage they can cause;

Which circumstances permit the performance of energized work;

What the requirements for a qualified person are;

How to create and verify an electrically safe work condition;

What the requirements for the two approach boundaries and the Arc Flash Boundary are;

Which clothing and personal protective equipment is required for each of the four Arc Flash PPE Categories.